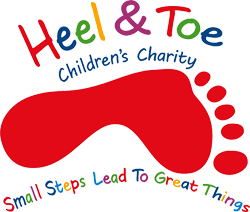 Heel and Toe Video and Audio
I help support Durham based charity Heel and Toe. They provide free Conductive Education therapy to children with Cerebral Palsy and other physical disabilities.
Conductive Education is a system of learning and any child can benefit and parents/carers are encouraged to take an active role in their own development.
Back in 2012 – 2014 I helped raise money for them by taking part in a number of 5K and 10K races raising over £800 in doing so.
Below are some videos/audio about the charity, you can also visit their website by clicking here.
Heel and Toe's Jane Long appeared on BC Newcastle on 22nd October 2020 to talk about how Heel and Toe were changing due to the COVID-19 pandemic…
Due to the COVID-19 pandemic in 2020, the Great North Run was cancelled, however a Great North Virtual Run was set up and its application end date was extended.  Charities like Heel and Toe rely on money raised from the event to keep going…
Here's Heel and Toe's Amanda Tweedy who was featured all week on Lisa Shaw's show BBC Newcastle from 16th to the 20th of March 2018 during the My Tunes segment…
Sarah Smith of Heel and Toe spoke to Anna Foster on BBC Newcastle on 20th July 2017 to talk about the building Heel and Toe are wanting to renovate through their Footprints Appeal and what work Heel and Toe do
And here's a report from BBC Look North the same day…
Jane Long (Development Executive at Heel and Toe) was on BBC Tees Breakfast on April 29th 2017 talking to Mike Hill about the Footprints Appeal and their Onesie Walk which was taking place on May 1st 2017
BBC Newcastle's Jonathan Miles visited the new Heel and Toe centre in Pelton, where he spoke to Amanda Tweedy (Fundraising Officer for Heel and Toe) as well as speaking to mums Jane Truman and Debra Smith who have children who attend therapy at Heel and Toe.
This video is from the BBC show Saints and Sinners and gives an insight into what conductive education is and how it helps children.
Back in 2010, Callum Brown needed surgery in America to help him walk on his own. Callum had spent his life using walking aids. His goal of walking unaided required £50,000 of fundraising, a pioneering operation, followed by a year of intensive physiotherapy.
But now he's done it, and he has received a standing ovation from his classmates. But his legs were holding him back.
A career as a footballer was a far off dream. To even walk on his own, he needed revolutionary surgery in America. He had the surgery last January. And four hours later he took his first delicate painful steps. From early 2013 he'd spend 3-4 days a week receiving therapy from Heel and Toe. Here is the report from Tyne Tees and features Jane Long, Development Manager at Heel and Toe.
Six year old Abbie Pinder was diagnosed with cerebral palsy shortly before her 1st birthday and it was thought she would never walk and require a wheelchair for all her life. But over the last year she has received conductive therapy and physiotherapy from Heel and Toe and recently she took her first steps by walking through the school gates on the first day of term at her school in Murton, County Durham, with the help of her 'kaye walker'. First a report from Tyne Tees on Abbie.
Here's a report from BBC Newcastle about Abbie
On the morning of the Blaydon Race on June 9th 2013, Amanda Tweedy of Heel and Toe spoke to Ingrid Hagemann about how being the charity being helped that year by the money raised from the Blaydon Race was helping out Heel and Toe.
Heel and Toe were the official charity of The Blaydon Race on June 9th 2013, Louise Snarr who's son goes to Heel and Toe for therapy appeared on Jonathan Miles' BBC Newcastle show on Tuesday 4th June to talk about what Heel and Toe do to help her son and other children.
Jane Long who is the Development Manager at Heel and Toe is doing the Inca Trek to Machu Pichu in May 2013. Former Newcastle United and Hartlepool football Nobby Solano gave Jane some advice and an idea of what sort of food she would expect to eat while in Peru.
Amanda Tweedy appeared on BBC Radio Newcastle on 11th June 2012 to promote Heel and Toe on "I love small charities day".
Next, these two videos are of Luke Walker, a 27 year old artist who has Cerebral Palsy and paints using a modified baseball cap which his brush is attached to. His previous art work, which he designed with the help of Michael Ross, who works with Heel and Toe, went on exhibition at the Newcastle Building Society head office, in Newcastle. Luke has raised around £2,500 for the charity